Welcome to the WORLD FAMOUS FLYING UBANGI Web Page. This is the primary site of VA12 Reunion information for reconnecting with old shipmates. Please let us know that you have visited this site by completing the
Guest Book
data.
You may also email your home address to Joe Kyle at
jhkyle@gmail.com
By joining the VA12 Reunion Association, that will get you on the Ubangi Newsletter mailing list. The Newsletter is published two times a year
.

Click here for the 2017 VA12 Reunion Page
The 2017 Ubangi Reunion in
PORTLAND OREGON
July 20-23, 2017
Is now HISTORY
Pictures are now posted!!
Click on Reunion page above then click on the bottom for additional pictures.
John Larch put on one heck of a show! Job well done John!
Members may now go to Survey Monkey to take the survey for the next reunion in 2019. click Survey for the next VA12 Reunion in 2019 If you prefer, you may download this paper ballot and mail it to Joe Kyle. 2019 VA12 Reunion Ballot
Please note our shipmates opinion matters to us but only paid members votes count towards the location decision
to actively participate, join the VA12 Reunion Association NOW!

Contact Joe Kyle today
Do you have a Sea Story or a piece of trivia that you would like to share? The Newsletter editors need your stuff!
Submit articles to
Joe Kyle
or
John Larch
All you want to know about the new NAVY.

Click this link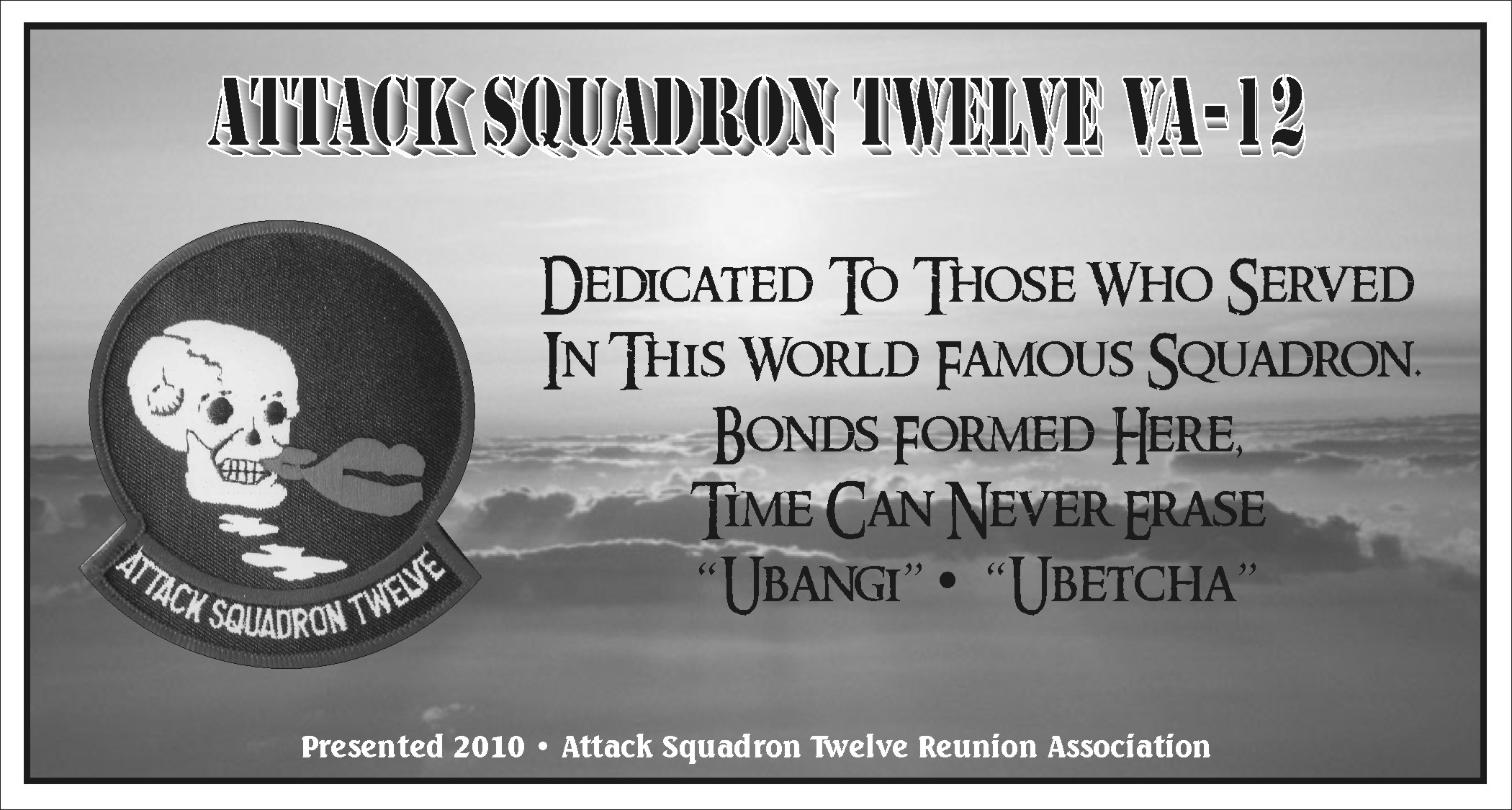 This plaque is on permanent display at the US Navy Memorial in Washington DC

Copyright 2010 - 2017 TJ Imaging Services
Contact the webmaster